As I mentioned in my return blog, I'm a huge Stoolie and very appreciative of their commitment to entertaining their fans during Covid. While other entertainment options were put on hold, they really ramped up their effort to provide fun content in a time when the world stopped. So how do I reward their efforts…..well, by ranking the top 10 "I'd like to meet up with for a beer".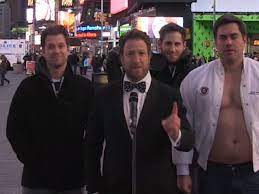 Before I get to my list, I want to explain why the big 4 were left off (El Presidente, Big Cat, KFC, and PFT Commenter). The reason is simple, they are the faces of Barstool and would obviously be in the mix, but is it fair to take up 40% of the list with these individuals, maybe, but it's not as fun. These 4 are responsible for the rocket trajectory that Barstool has been on over the past 5 years so they are my Mount Rushmore, so the focus of this list is best of the rest.
Without further ado, here are the top 10 people from Barstool I'd like to meet up with for a beer!
Chief: Why? Because I'm Team #BurrataGang! I love what he brings to Barstool Chicago, and feel like we could literally talk about anything at the bar. He knows history, conspiracies theories, and sports. I've tried to think of something funny to write here but my mind is blank, just seems like a cool dude.
Brandon F'in Walker: This was an easy #2 for me because we could discuss College Football and Wrestling, two of my favorite things. There's also a great shot that he causes such a scene at the bar that they kick us out before we can pay, so Free Drinks!
Kayce Smith: Yes she's pregnant but that's why Mocktails exist. Besides being a smokeshow, she's also one of the coolest people at Barstool. Would love to just talk sports and life with her, plus I feel like we could go to some of those ridiculous bars in NYC that only Kayce and Portnoy even know exist.
Feitelberg: I mean, I couldn't let this potential 1:1 pick slip any further. I feel like when you are out with Feitelberg anything could happen. You could start at a bar in NYC and end up in the middle of Maine drinking beers in some random guys garage…though on the other hand, you might have to track down a new pair of pants after he shits himself at that first bar. So literally anything could potentially happen with him.
Robbie Fox: Talk about a Spork, the only question is if he's actually old enough to drink. We could talk Comic Book movies, wrestling, or UFC, all things I'm a huge fan of. My one request would be to grab beers during a UFC Fight Night so he could tell me who to bet on…plus we could facetime with Dana White
Fran: Again, another person who just seems awesome. She watches sports and could update me on all the pop culture events that I have no idea about. Fran strikes me as someone who knows the most fun bars in any city she goes to…and not the pretentious bars, but the chill ones with great drinks, great people, and great music.
Jeff D Lowe: Loves trivia, movies, and Survivor…..did we just become best friends. My only fear is that he brings one of those many Funko Pops he owns to the bar and actually orders it a drink.
Nick Taurani: Though I can't confirm that's his real name. Nick would be a blast because I'm sure he's has some great stories, and even better, some of them might actually be true. Besides, I owe him one since when the Dozen was a Sirius Radio show, he read my ridiculous question about guessing my new born daughters weight which I'll forever be grateful because it put a huge smile on my wife's face.
Tommy Smokes: I could only imagine this guy at the bar. I see Tommy as the guy who loves to just sit at the corner of the bar and make smug comments about everyone around us. Good chance we get beat up when he makes fun of the wrong person, but would be worth it for the story. Plus, it would be fun when he calls Portnoy to come bail us out of jail.
John Rich: The new guy on the block, and he seems like he's the man. As a huge Stoolie myself, I would love to hear what it was like to go from being an outsider, to actually being a member of the Barstool Family. Beyond his origin story, he has such a unique sense of humor and think it would just be a blast to just throw back a couple beers with him.
Now you might be asking yourself, why weren't some of the other big names from Barstool on my list….well I have an answer for you.
Eddie: Absolutely love the guy, but there's a 90% chance he bails on me 10 minutes before we are supposed to meet up. If he does come, I think it would be fun because I'm sure he's got some great stories, and maybe he'd let me drive his Tesla.
White Sox Dave: Poor man's Brandon Walker. Just as likely to get kicked out of the bar, but he doesn't know wrestling and I don't want to spend the night talking about the White Sox.
Marty Mush: I thought about inviting him to the bar for the sole purpose of no-showing him #TeamHank.
So that's my list, you might agree or you might disagree but if you read this blog, I already won. The hardest part about making a list like this is it'll change tomorrow. Between all the new "reality shows" and the new season of the Dozen kicking off, Barstool is really making an effort to get their content crew out from behind the keyboard and allow the "stoolies" to get to know them.
Side note, every times he's on camera, there is a good shot Brandon Walker says something and joins Eddie & Co on the outside looking in.