The answer is simple, because if you want major upsets to occur, the underdogs need their fans in the stands. That's what gets those teams to the finish line when they are battling a team that is most certainly better than them, just not on this given day. Without that extra boost from their fans, I don't think UMBC beats Virginia, I don't think Lehigh beats Duke, and I don't think Norfolk State beats Missouri.
Want an example of an upset that should've been but ended up not happening because fans weren't in the building? Look at the BYU vs Gonzaga game last night, because with a full house, I think those fans keep BYU believing they can win.

The entire first half BYU absolutely dominated both ends of the court in a manner that the 25-0 Zags hadn't seen all year and as a result had a 53-41 lead. This should have been the upset of the year, especially with Gonzaga favored by 14, but thanks to an empty arena, Gonzaga was able to take over in the second half and eventually win by 10. BYU just lost the momentum in the first minutes of the second half and weren't able to recover.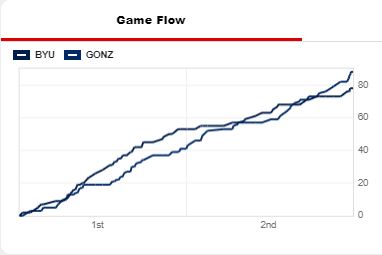 Sure, I understand that fans aren't actually on the court and don't make a physical impact on the game, but you're foolish if you don't think fans don't help. If you've never been to a game where the home team's crowd has willed their team to victory against a tough opponent I feel bad for you because it's one of the best feelings in sports. It's amazing how you can actually feel the momentum in those tight games, and the collective energy that erupts when your team gets the victory.
For those epic upsets to occur that make March Madness so special, fans need to be there to cheer their teams on. This is especially important the first weekend of games because this is when those top seeded teams not only have the expectation to win, but to dominate. When the underdog is able to keep it close, it emboldens their fans and gives them hope. And whet fans believe they can win, you know the players believe too.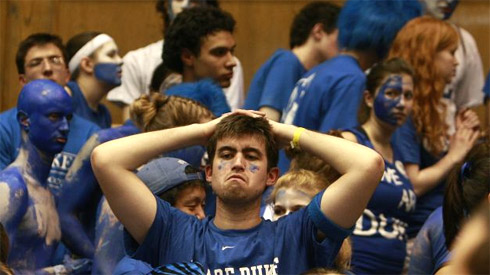 Same can't be said for fans of the favorite because the later the game goes, and the closer it remains, their fans get that feeling in the pit of their stomach that they could lose. If your a Duke fan and you're losing to LeHigh, how could you possibly have any energy watching them struggle against a #15 seed. Especially when you were the biggest favorite of the first round. When the fans begin to believe they can lose, it starts creeping into the players minds too. And it's these emotions that are the foundation for every great upset in March Madness history.
But without fans, these moments don't happen. Without diehard fans does UMBC take down Virginia a couple years ago? Think about the scenario, UMBC takes a lead on Virginia in an empty building and their coach simply calls a timeout to settle the squad. The momentum slowly starts to fade away and #1 seed eventually advances to the next round. That's why I'm happy the NCAA decided to allow fans in the building, even if it's just 25%. Those diehard fans power the upsets that we all want to see.