As the 2020 Fantasy Football comes to an end, I think it's time to reflect on how we can continue to improve the "sport" to ensure at the end of each season the best team is crowned champion.
Here is the issue that occurs every Fantasy Football postseason; with few teams remaining, some team gets lucky and are able to advance by simply "not being the worst" team that week. They weren't the best, they simply weren't the worst. But that's bullshit, because not being the worst team shouldn't earn you a championship. That's why I'm proposing the Fantasy Football Playoff Battle Royal.
Look at the Championship matchup vs 3rd Place Game in my league, the regular season champion who had a bad semi-final absolutely smoked everyone.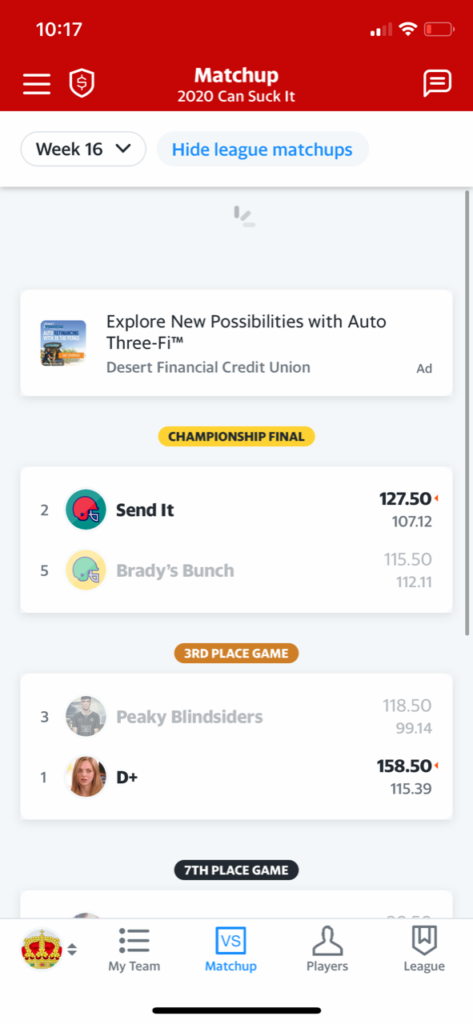 Before anyone responds saying there are already leagues that aren't head to head, but rather total points scored, I know. But what's I'm proposing is a hybrid model that allows for head to head matchups during the "regular season" and a battle royal setup during the playoffs.
Here's how it works. Top 8 teams in Head-to-Head matchups during the regular season advance to the playoffs. You've got to keep the head-to-head matchups because that's where the best trash talking takes place. It's no fun if you are simply battling everyone, you need one person you can put on blast when they have a crappy week.
Once the playoffs begin, the top 2 teams from the regular season get a bye to the second round. The remaining 6 teams battle it out with the four highest scoring teams advancing to the next round.
From there, with only six teams remaining, the four highest scoring teams advance to the semifinals, and then the top two scoring teams advance to the finals for a head to head matchup. Ideally, this should prevent teams from getting lucky.
The playoff season should last the same length of time as other leagues where 8 teams make the playoffs, the big difference is that the Battle Royal format prevents anyone from getting lucky. At the end of the season, the best team should be crowned champion.