Disclaimer: Yes, this post is purely my personal opinion of the attractiveness of NFL QBs. Sexist? Sure. Offensive? Hopefully not. I am just one woman with an opinion. Maybe this is inappropriate, I don't know, but straight men have been objectifying women for years so I'm just going to enjoy writing this and not really care about much else. This is also my first published blog so cut me a bit of slack and enjoy!
The Tier 1 Absolute Hotties
1. Jimmy Garoppolo, SF
There are good looking quarterbacks, and then there is Jimmy Garoppolo. There are good looking men, and then there is Jimmy Garoppolo. I like to think about the time that he was the backup to Tom Brady and shared a locker room with notorious thirst-trapper Julian Edelman and party boy Rob Gronkowski. What a time to be alive.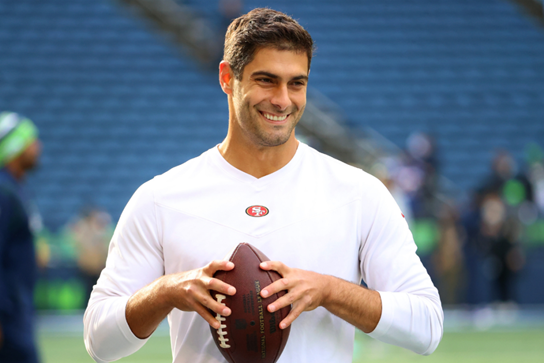 2. Jalen Hurts, PHI
Not only is Jalen Hurts extremely good looking, but he is leading the only undefeated team in the NFL this season. This is a very shallow blog based purely on appearance but I do have to give a strong nod to his tremendous talent.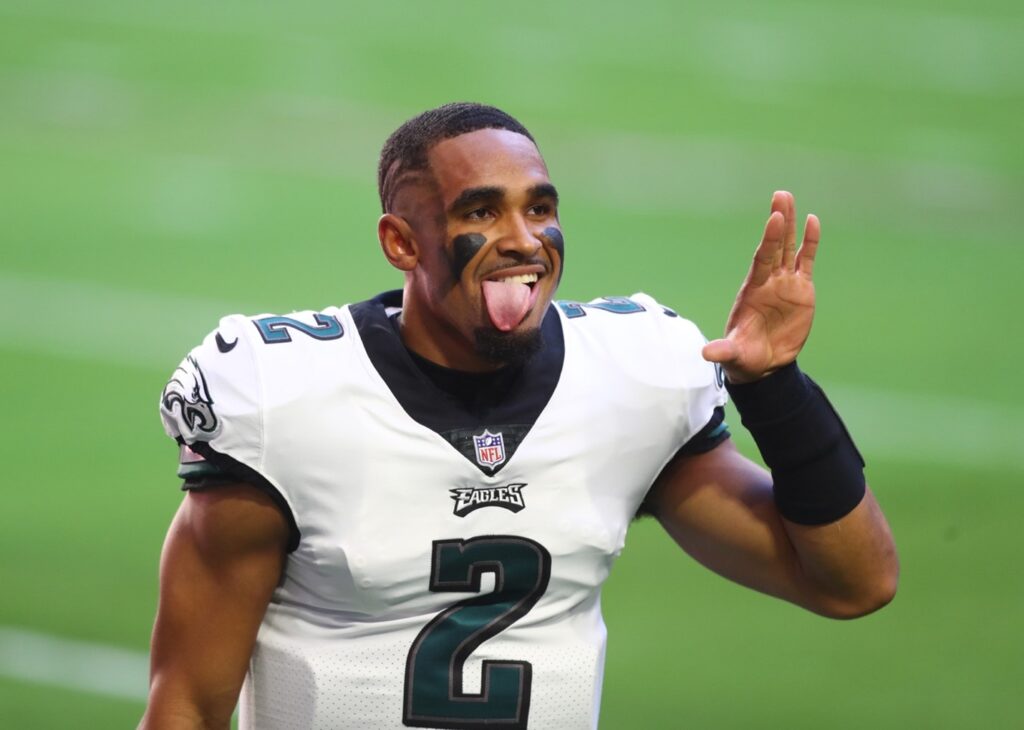 3. Tua Tagovailoa, MIA
Tua is in that perfect sweet spot where he is definitely attractive but also looks like he would be happy to cook you an incredible meal and then listen to you talk about your work frenemies for 3 hours. "Tell me more about how Carol doesn't properly format Excel docs while I get you another serving of Paella." I can't confirm whether any of that has happened nor can I speak to his cooking skills, but that's the beauty of blogging. I can l say whatever I want.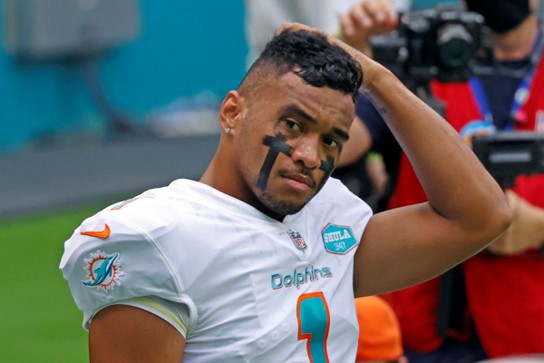 4. Tom Brady, TB
The GOAT, and also pretty widely accepted as a handsome human being. I'm going to respect Tom's privacy and not speculate into any off-season surgeries or injections he may or may not have had.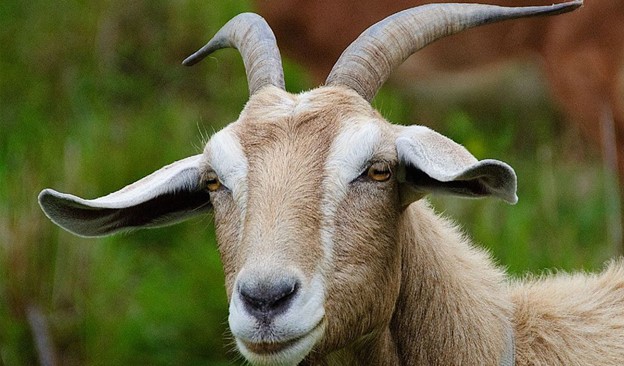 5. Josh Allen, BUF
Josh Allen reminds me of the classic frat boy archetype in shitty college movies. Not the one making cave man grunts and chugging beers, that's Gronk territory. Josh is like the "bad boy turned good" character who realizes the error of his womanizing ways and then falls for the dorky art major who becomes super-hot once she takes her glasses off. I think it's that reformed frat boy quality that makes him high up on this list.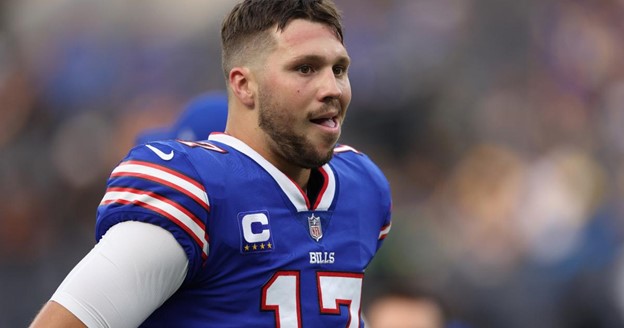 6. Joe Burrow, CIN
Joe Burrow has incredible style and while he's not my type, I have to give him a high ranking based purely on his swag. If you have the time, I recommend googling his best outfits.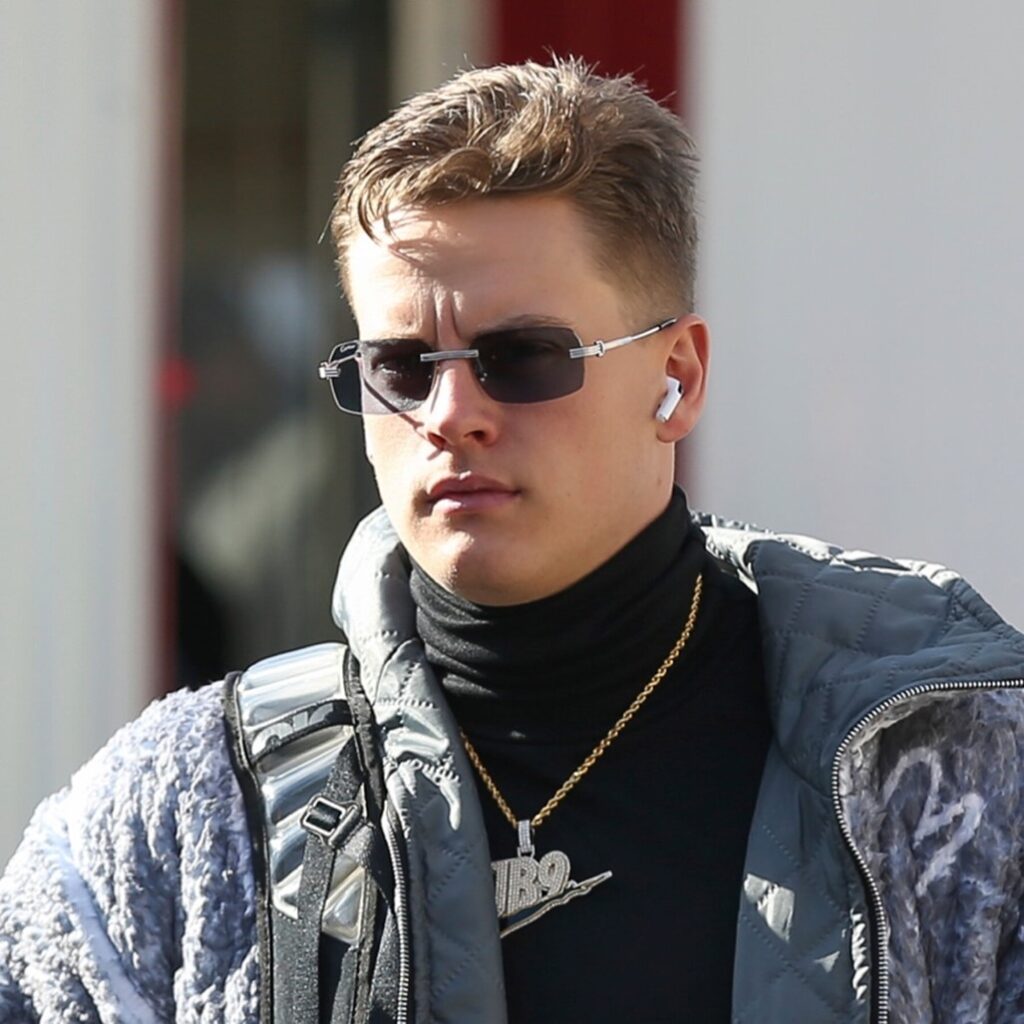 7. Jacoby Brissett, CLE
It's gotta be tough to be on the Cleveland Browns, but I think it goes without saying that Jacoby is by far the best-looking man on the team, in the city, and maybe in the state of Ohio.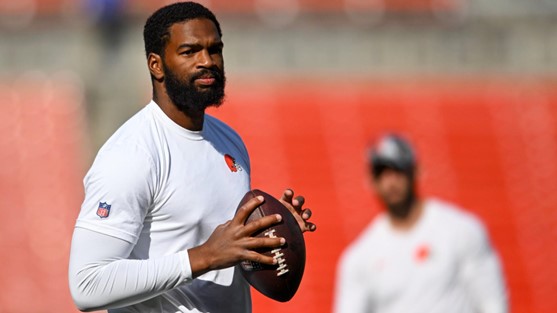 8. Justin Herbert, LAC
Justin Herbert barely made the cut onto the main list from the "too young to rank" list, but I decided he deserved a spot in the top 10. He's got a strong jawline and a strong career ahead of him if the Chargers can figure out how to manage the clock and finally make the post-season.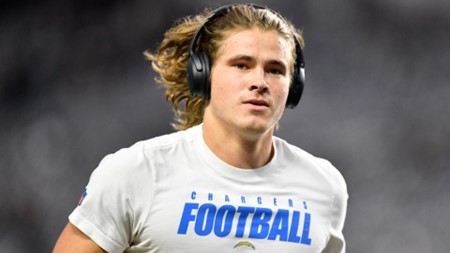 10. Mitch Trubisky, PIT
Mitch Trubisky is best known for being the subject of "one of the worst trades of the decade" according to a google search I just did. Regardless of his disappointing career thus far (at least for Chicago Bears fans), he is pretty decent to look at and deserves a top 10 ranking.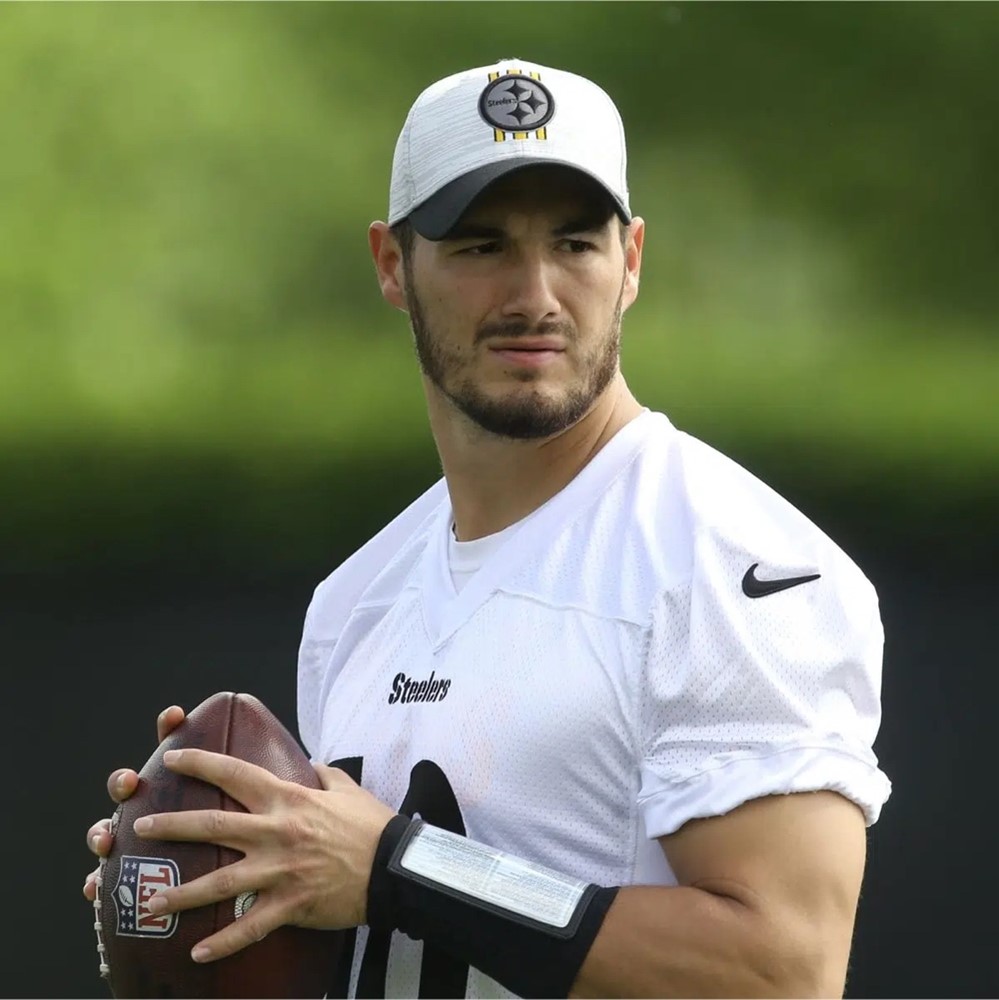 The "Hot for a really specific reason" Tier
10. Ryan Tannehill, TEN
I don't know a lot about Ryan Tannehill, but I do know that the dog he is holding is absolutely adorable. He is also wearing a shirt that says "Dogs Rule", and that makes him about 1000x more attractive.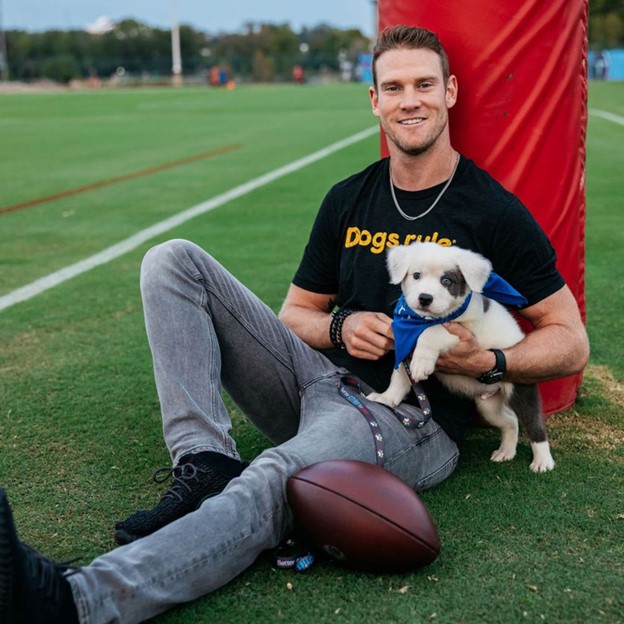 11. Trevor Lawrence, JAC
Trevor Lawrence pulled off "Bronde" before any hairdresser knew what "Bronde" was. I like to imagine that Instagram models bring in photos of Trevor Lawrence to their stylists in an attempt to replicate the volume, the shine, and the perfect color that "isn't quite blonde and isn't quite brown." He's really more of a hair model than anything but definitely deserved a mention just outside of the top 10.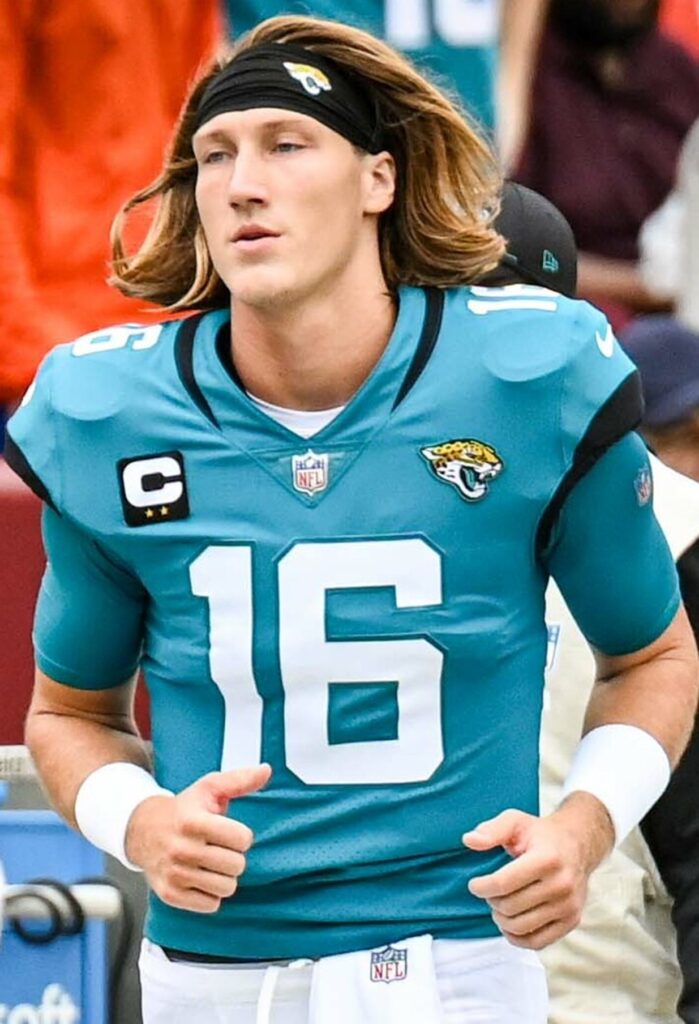 12. Geno Smith, SEA
As a life-long die-hard 49ers fan I absolutely hate the Seattle Seahawks, but watching Geno Smith this year has been pretty cool. The guy has had a rollercoaster of an NFL career, and I'm glad he's getting his turn to shine in the spotlight. He's number 12 on this list purely because of the 12th man which, for the record, I hate.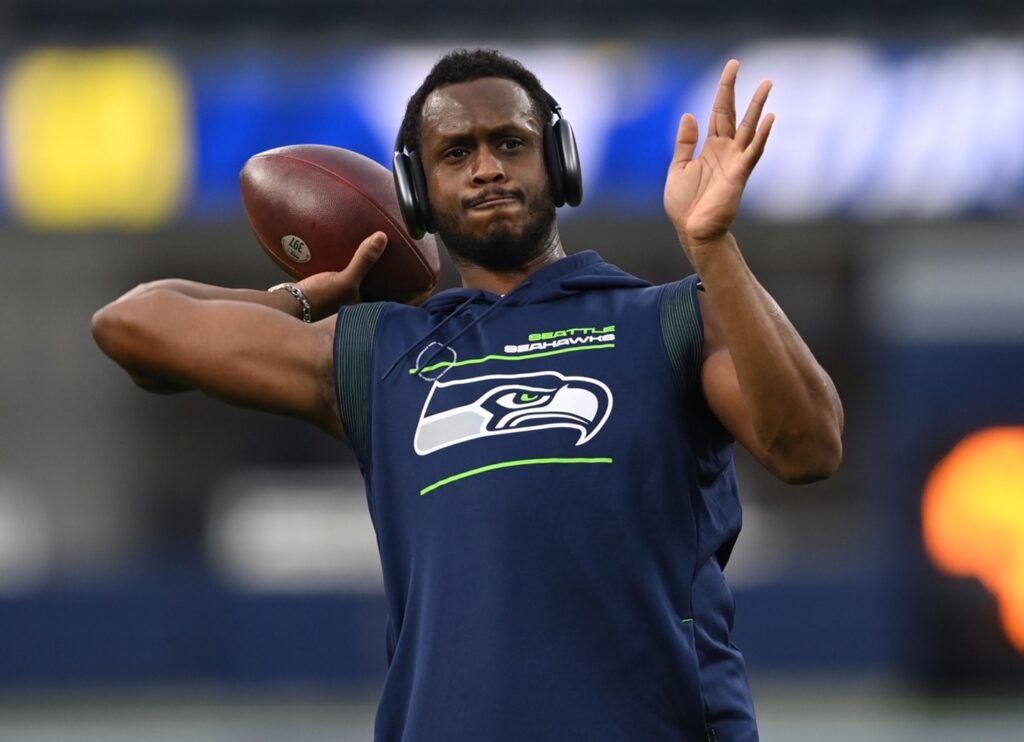 The "Backyard BBQ Hot" Tier
My friend Jennie once described Luke Bryan as "the kind of hot where he could easily be grilling burgers at a backyard bbq and would maybe catch your eye, but not enough to text your friends about." I think that is the perfect way to describe Luke Bryan and these next 6 NFL Quarterbacks. This isn't necessarily a bad thing – they are still good-looking dudes – but they have this "neighborhood dad" look about them that would keep me from watching their post-game press conference if the mute button was on.
13. Jared Goff, DET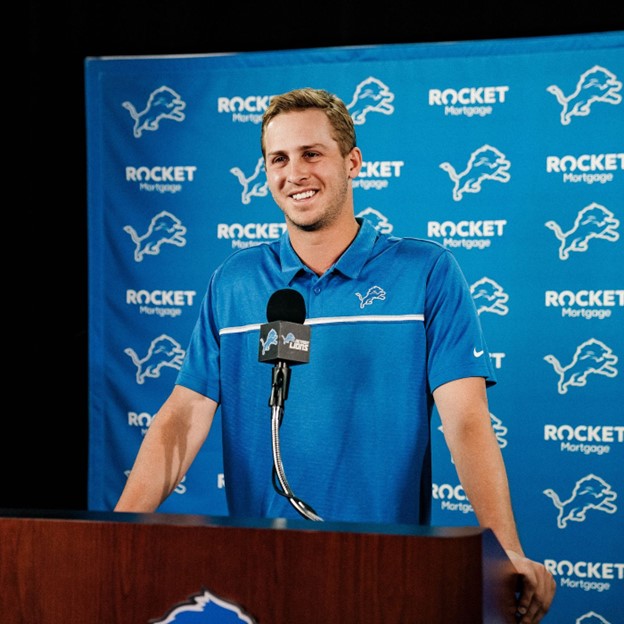 14. Marcus Mariota, ATL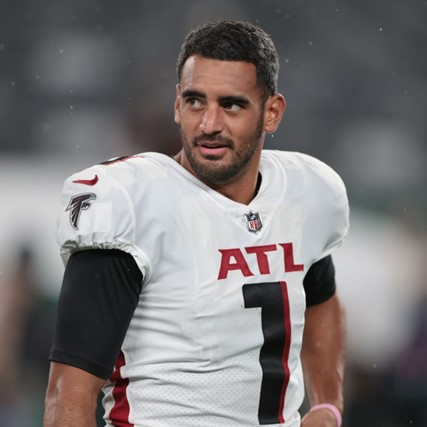 15. Matthew Stafford, LAR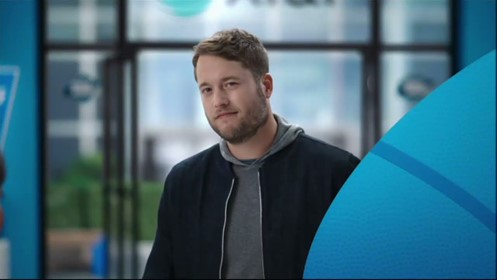 16. Baker Mayfield, CAR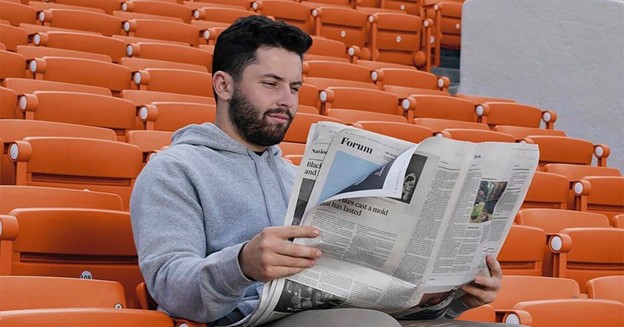 17. Daniel Jones, NYG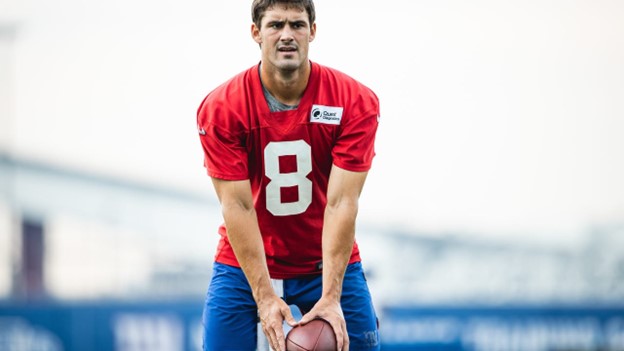 18. Davis Mills, HOU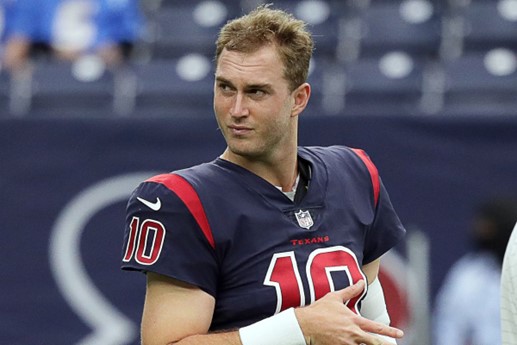 The "Something weird is going on with their eyes" Tier
19. Derek Carr, LV
Derek Carr will always and forever look to me like he's wearing eye liner. I am 99% sure he isn't, but if he is, that's cool, I just wish he would own it. Maybe throw some bedazzled rhinestones on there every once in a while. Maybe mix up the classic smudged black with a teal or purple. That wouldn't necessarily make him move up the list but I would probably smash the like button on his Instagram posts more than I do now (zero times).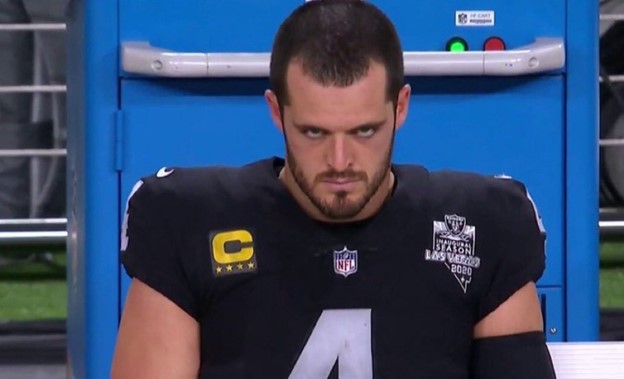 20. Kirk Cousins, MIN
Unlike Derek Carr, Kirk Cousins doesn't wear eye liner. But man – do those eyes look haunted. Maybe it's the years of disappointing seasons and devastating playoff appearances that is causing him to look dead inside even when smiling. You'd think a guy worth $70M would learn to smile with his eyes. Is everything okay Kirk????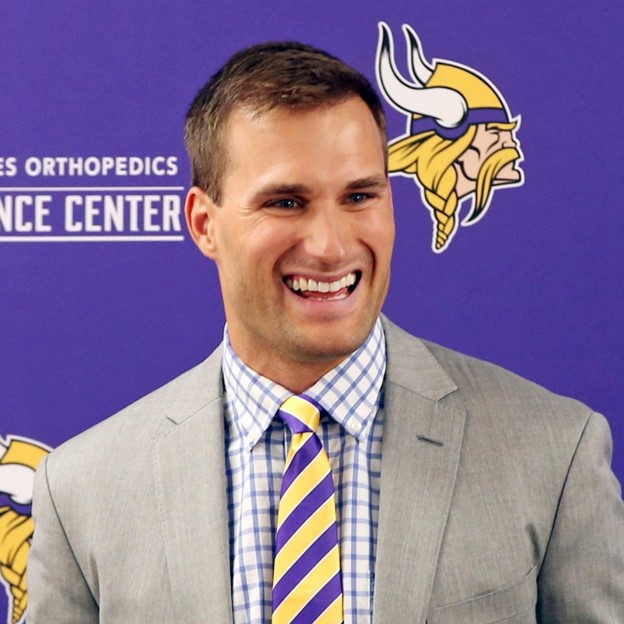 The Ruined for me by Social Media Tier
21. Lamar Jackson, BAL
On December 15th, 2020 Lamar Jackson led the Ravens to a thrilling victory against the Cleveland Browns. I remember this being a really exciting primetime game, but more than anything, I remember Lamar Jackson clinching his butt running down the tunnel back to the locker room with what he claims were "cramps."
In my experience, cramps don't make you clinch your butt and skip around…. poop does. Therefore, I cannot accurately rank Lamar Jackson because all I can think about is the viral video of the butt-clinching jog to the bathroom and intruding thoughts of diarrhea.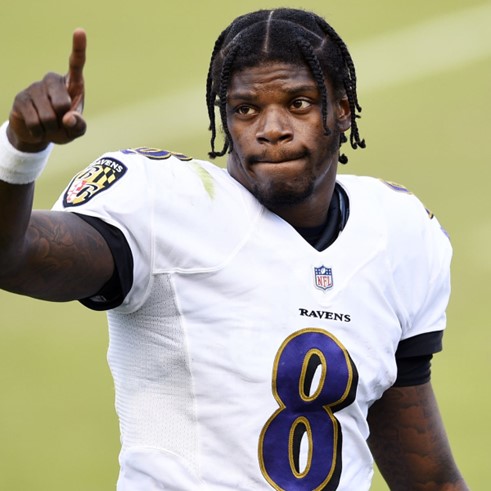 22. Aaron Rodgers, GB
There may not be a more controversial QB on this list right now than Aaron Rodgers, and it has nothing to do with his vaccination status and recreational consumption of herbal remedies. It's his hair. He claimed he grew it out so he could dress-up as a convincing John Wick for Halloween – but that was October 2021 and not much has changed since then. During preseason he posted a photo of himself looking like Nicholas Cage in Con Air, which was quite frankly just weird. It's not that I don't want to rank him, it's that I really don't know how I feel.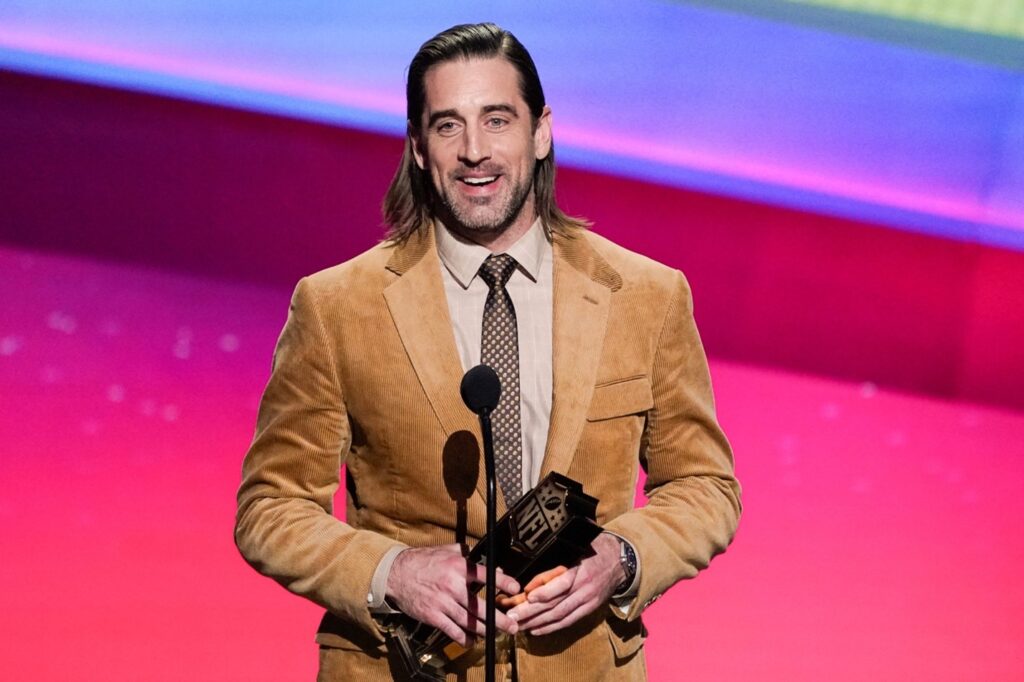 23. Kyler Murray, ARI
A video of Kyler Murray scrambling in the Red Zone recently went viral with the caption "when your toddler steals your cell phone". I have a toddler, and she has absolutely stolen my cell phone and then scrambled across the house looking like a tiny drunk adult evading responsibility. This is exactly what Kyler Murray looks like to me now and I can think of nothing else.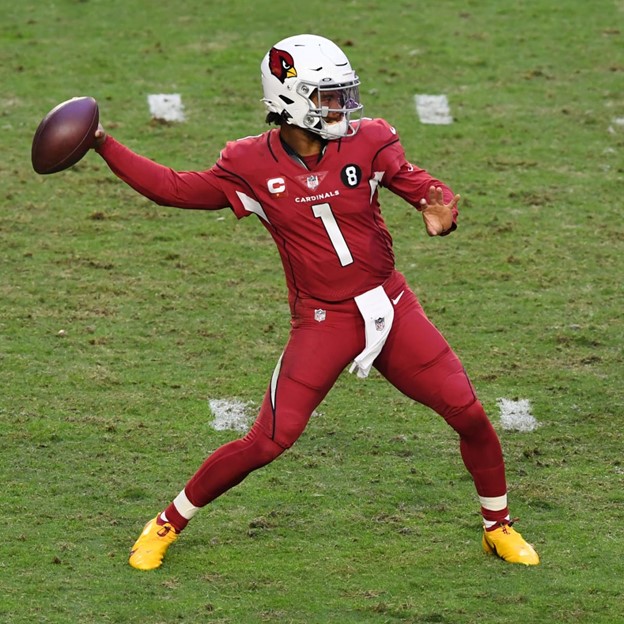 24. Russell Wilson, DEN
I hate the Seattle Seahawks (have I mentioned that enough yet?) My hatred was especially high during the 6-year run when they kept beating the crap out of my team and were responsible for some really devastating in-game injuries. Russell Wilson represents this era of the Seattle Seahawks and therefore cannot be properly ranked.
The Ginger Tier
One of my best friends is married to a ginger, and he's great. Our mutual friend's mom has referred to him as "Hot Boyfriend" for over 10 years, which should be all the proof you need that gingers can in fact be very good-looking guys. However, because it's unknown whether they have souls and are very prone to sunburns, I felt it best they have their own tier.
25. Andy Dalton, CIN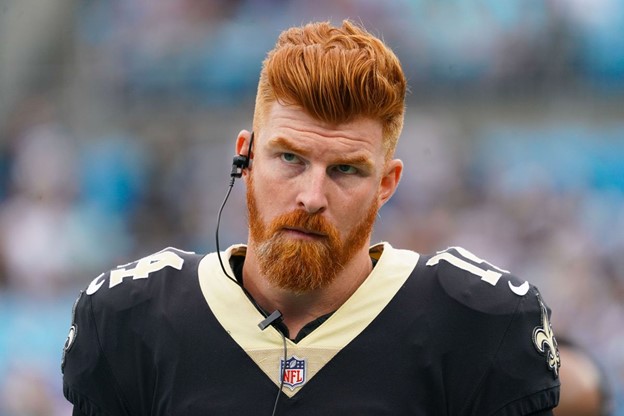 26. Carson Wentz, WAS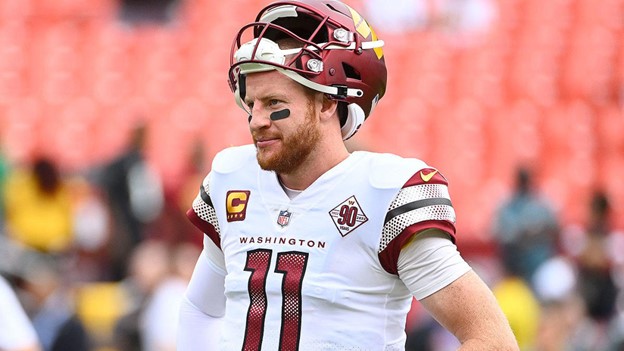 27. Cooper Rush, DAL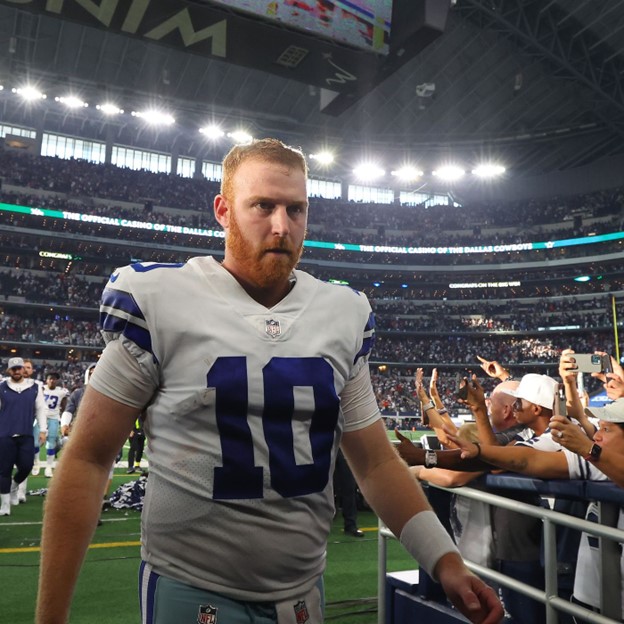 #28
28. Matt Ryan, IND
Back in our kid-free days, my husband and I shared a swanky apartment in Downtown Phoenix where we liked to host parties. One of the parties we hosted was the Patriots vs. Falcons Superbowl. My husband is a die-hard Patriots fan, so with about 3 min left in the 3rd quarter of that game, the mood in the apartment was a little bleak. I was getting bummed out, so I headed to the kitchen to get a head start on tidying-up. While I was in the kitchen, the Patriots scored. I stayed in there a few minutes more, and the Patriots scored again. By then I was so stoked that I went to go reclaim my spot on the couch, and as I was about to sit down my husband said – "where were you when the comeback started?"
And that's the story of how I personally contributed to the Patriots come-from-behind victory by watching the rest of Superbowl LI from the kitchen. You're welcome, Bill & Tom.
28-3 will live on forever, and I wanted to subtly troll Matt Ryan by making him number 28.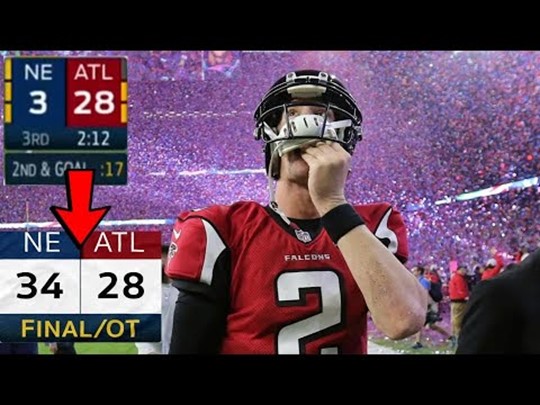 The Muppet Tier
29. Patrick Mahomes, KC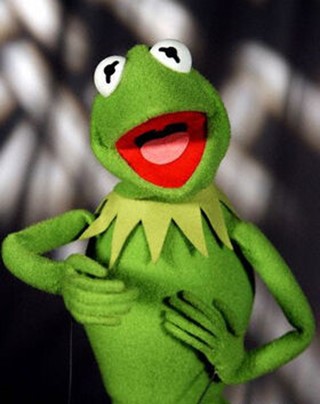 Honorable Mentions (Too Young to Rank)
I've never felt older than when I was looking up photos of these QBs. Bailey Zappe looks like he should be attending high school prom. Justin Fields has amazing arms, but I just can't get past the little baby face. Zach Wilson looks like he could be cast as the titular character in a really terrible live-action remake of Peter Pan, streaming exclusively on some bottom-tier streaming service my husband probably pays for. Therefore, I'll end this blog with these three little baby faces at the bottom. Maybe they will rise up the ranks in a few years.
30. Bailey Zappe, NE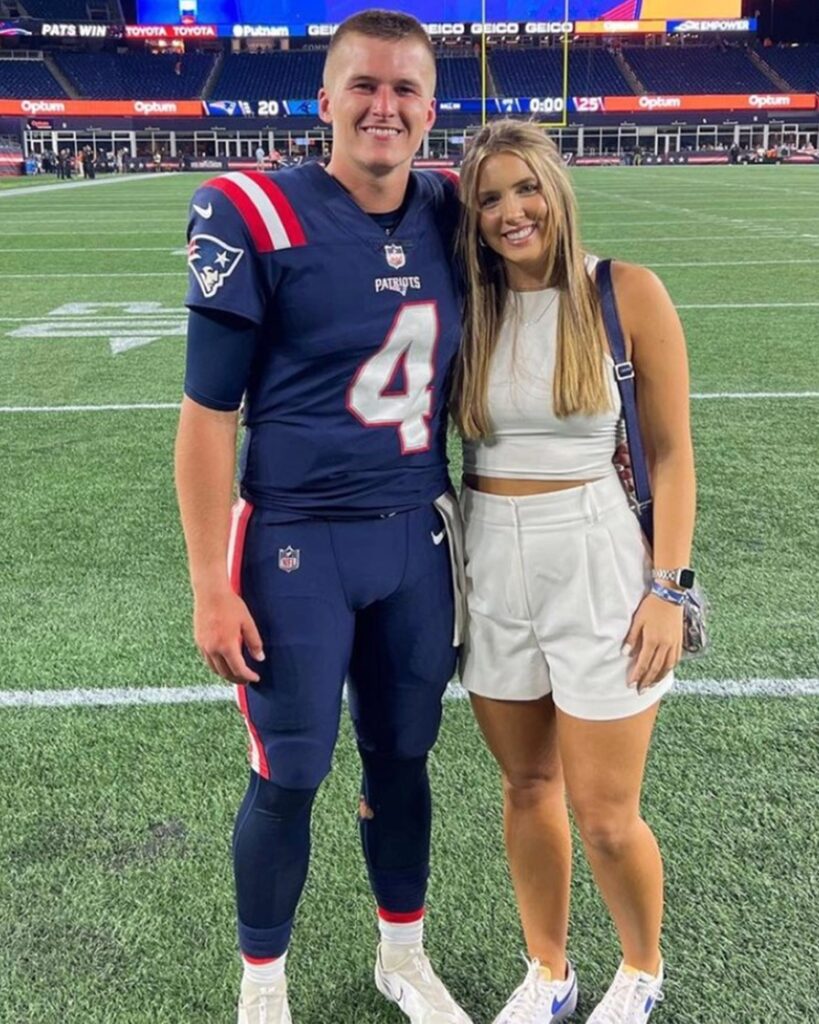 31. Justin Fields, CHI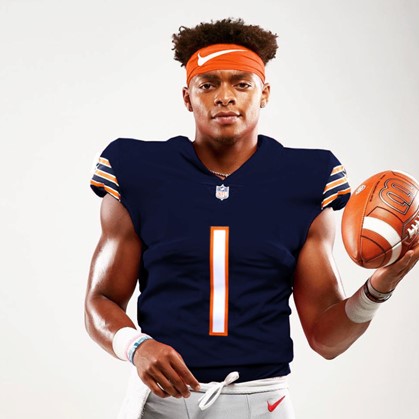 32. Zach Wilson, NYJ